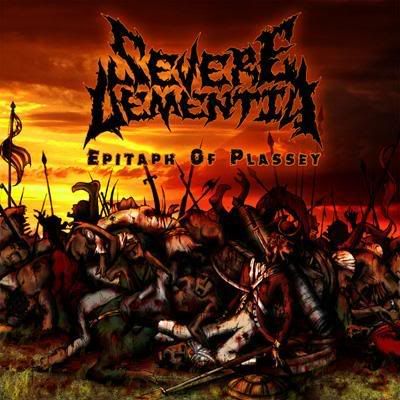 1) Entombment of the Traitor
2) Credence of Fort William
3) The Bengal Regiment
4) Howls of Murshibad
5) Strangled by Treason and Forgery
Severe Dementia is a brutal/tech death metal band that adds a touch of melody and atmosphere to their music. The

Epitaph of Plassey

EP recollects the Battle of Plassey, a British victory over India which essentially set up the British Empire in India. Although they do not have much material yet,

Epitaph of Plassey

proves that Severe Dementia is one of the best Asian metal bands today. I highly recommend this to fans of Behemoth, middle era Death, and B to D era Morbid Angel. This EP was featured on the

Rise of the Eastern Blood

split album, which also featured Demonic Resurrection, a death/black/power/thrash band from India and Dusk, a death metal band from Pakistan.
Myspace
Download (Mediafire)
Download (Megaupload)